The below is a deep dive on the HubSpot Marketing Hub. Click here for a HubSpot Sales Demo or here for the HubSpot Service Demo.
In this short video, our head of HubSpot Implementation Tasha gives us a virtual demo of the HubSpot Marketing tool and its key features.
What are the Hubs of HubSpot?
HubSpot has 4 key products which they commonly refer to as Hubs. These are;
Marketing Hub
Sales Hub & CRM
Service Hub
CMS Hub
Each of these hubs has unique features and the best part is they are all connected by the same CRM/database. Meaning all of your marketing, sales, services or website edits can be stored in one place, or a wholistic single customer view.
Check out these pages to learn more about Sales Hub, Services Hub and CRM Hub.
What does HubSpot Marketing include?
HubSpot Marketing features include:
Forms
Email Builder
Ad management tool
Contacts Lists/segmentation
Team Inbox & Mail
Live Chat
Conversational bots
Reporting dashboards
FB messenger integration
Custom data fields/properties
Landing page builder
Ad retargeting tool
Blogging tool
SEO recommendation and optimisations
Content strategy tool
Google search console integration
Calls-to-action
A/B testing
Marketing automation
Website traffic and analytics
Custom reporting
There are a few more tools not mentioned above for Professional and Enterprise users.
Dashboards & Reporting in HubSpot Marketing
There are a bunch of incredibly useful reports in HubSpot marketing and even more in custom reporting.
Some great examples of HubSpot reports include:
Traffic report
Source of leads and customers
Average days to close
Returning visitors
Deals open
Deals won vs lost
Best performing emails/landing pages etc.
Marketing Dashboard
When you first log into HubSpot you will see a dashboard, now the out of the box ones are pretty good but we like to customise these for clients to show them metrics that might be more valuable for them.
In the above example you can see:
Contact to Customer average days to close by channel
Contact totals by lifecycle stage
Contacts by source
Summary of the team's activity
Landing page & email performance
And also, one of my favourites for B2B, returning contacts
Contact Lists and Segmentation
The HubSpot CRM and contact database underpin all HubSpot's products the contacts and lists tool is where you can create filters and lists to cut through all of your data.
In the lists tool, I can see my database I can add and sort by any column I want and create filters. But the real power in contacts is lists and segmentation so let's go there.
There are two types of lists static and active. Active lists are dynamically populated so if you create the criteria today but weeks from now a contact meets the filtering criteria they will fall into the list.
Conversations and Live Chat Feature
The conversations/chat flows feature is where you can create either live chat where it's manned by your team, chatbots or something in between which we call lag chat. An example of lag chat could be you ask a series of qualifying questions and then either grab their details for your team to contact or notify your team once some is qualified so they can jump in and take over as a human.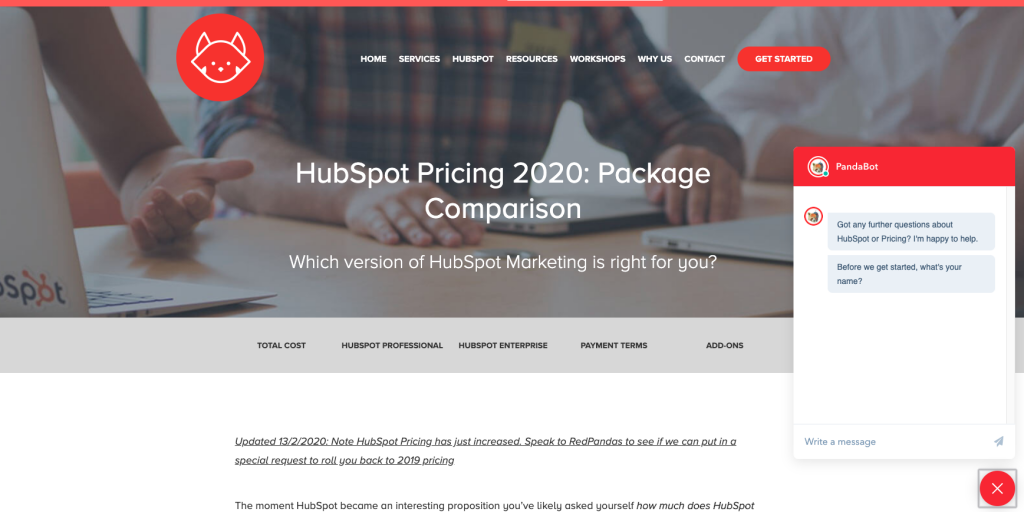 If you run Google or Facebook ads there is a native integration. This is powerful from a reporting standpoint because not only will you see the regular stats but you will also be able to see in the system which facebook or google leads turned into customers.
Email Marketing Builder and Tool
The email tool is one of HubSpot marketing's most powerful tools. It's like having a version of Mailchimp on steroids. Under marketing > email, here you will see a list of all the emails you have ever sent, drafted or scheduled here. You can easily create a new email by either cloning and old one, using a template or starting from scratch.

Social Media Management and Scheduling Tool
HubSpot marketing hub also has a built-in social media tool, which you will find here. Using 3rd party tools like Hootsuite and Buffer are great but they aren't connected to your database.
Once all of your social accounts are connected, not only can you schedule posts but you will be able to see sessions to your site from social as well as new contact database growth from your posts.
HubSpot Marketing: Landing Pages & Blog Tooll
The landing pages and blogs tool have very similar user experiences. Once you're in the tool you can see the list of pages you have already created or have in the draft – and creating a new page is as easy as cloning an old one or clicking here.
The landing page and blog builder is similar to email builder, with drag and drop functionalities and very user friendly. You can build anything you can imagine and our HubSpot certified coders are able to build stunning, conversion-focused landing pages. There's also a lot you can do yourself with plenty of out of the box templates.
Calls-To-Action (CTA) Buttons
You can also create a CTA button/link for an offer or event, then easily embed that CTA button on an external site. That CTA will now be tracked each for views, and click rates.
Form Builder
Just underneath the CTAs, the forms tool is where you build your forms that you can then embed on your website, landing pages or even external pages. It's very easy to use and you can customise the contact properties or data fields that your organisation requires. From the form builder tool, we can add in auto-responders and internal notifications.
SEO Tool: Recommendations and Optimisations
Once you have connected your google search consoles to HubSpot you can view the SEO recommendations directly out of your HubSpot portal, and on the topics tab, you can work on creating your topic pillar pieces.
Content Strategy Tool
Located in the same place as the SEO recommendations there is the topics tool, toggle across to hear to build out your topic pillars! Use this tool to connect all elements of the topic or theme to support your SEO strategy and planning.
HubSpot Marketing Automation & Workflows
Next up is marketing automation where you can create powerful workflows to automate external emails, internal emails, tasks and even SMSs. By the time we've started to build your HubSpot portal, we would have already workshopped and recommended the best practice workflows designed to engage prospects and move them towards making a purchase.
We can create workflows for things like sending automated emails on behalf of your sales reps for return visitors to your site or engaging customers who have bought in x months to see how they are going. (need a good visual of a workflow)