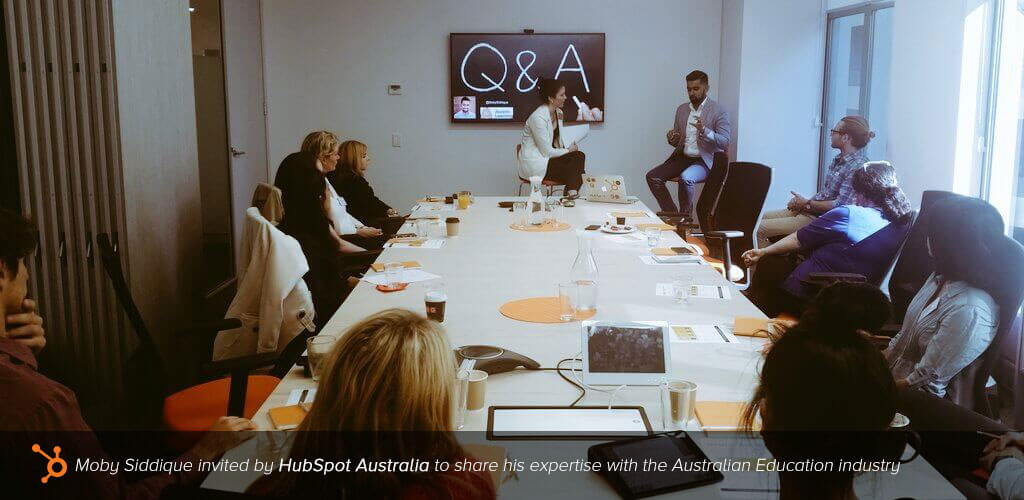 Are you looking for a professional digital marketing speaker or customised training workshop or for your team? One that isn't fluff, doesn't cost an arm and a leg and can be delivered to an entire department or division?
Our training and workshops are delivered by our Co-Founder, Moby Siddique. Moby Siddique is a seasoned Digital Marketing Consultant & educator. A practitioner of digital for over 10 years, Moby has been involved in Digital Marketing training since 2011 and has trained audiences from Optus, Kimberly-Clark, Knight Frank, IMG Worldwide and guest lectured at the University of Sydney and Western Sydney University.
Our energetic, expertise and deep passion for all things marketing strategy, inbound and digital marketing will have audiences walking away with actionable, fluff-free skills they can implement in their business units or departments right away.
We have covered the following topics in workshops before:
Digital Marketing Strategy
Value Proposition development
Content Marketing
DIY SEO
Google AdWords Training
Google Analytics Training
Social Media Community Management
Social Media Advertising Training
Email Marketing
Book us for your next training event or as a keynote speaker.
Example Session: ROI & Reporting Session
Feedback
How much do digital marketing workshops cost?
The cost of a half day workshop starts at $1,500. Full day workshops start at $2,000. The price covers the presenter's time for the day and scoping the objectives of the session beforehand with you. This also includes developing custom slides, worksheets, templates and workshop material.
We pride ourselves of offering the best value workshops in Australia. The amount of effort that goes into each session and the learning outcomes of participants make this a truly valuable investment.
Workshops are most economical and best suited where groups of 6 or more people are able to attend.
RedPandas do offer heavy discounts for charities and NGO's. For universities and colleges, lectures are often done for free as we believe in empowering and inspiring the next generation of Australian marketers.

Want Moby to present at your Marketing or Digital Marketing event? Fill out the Quick Contact form at the bottom of this page to get in touch.