Much had been made around the fact Microsoft bought LinkedIn for a record $26 Billion last year and many marketers had been wondering whether Microsoft would finally do something about LinkedIn's, frankly, sub-par advertising platform.
Well it appears 2017 has finally arrived at LinkedIn. From April 24th, co-incidentally the exact same day LinkedIn celebrated half a billion users, advertisers have been able to run remarketing (aka retargeting ads) on the network of choice for professionals.
Officially called Matched Audiences, the new feature allows advertisers to remarket on LinkedIn in three key ways:
Website Retargeting
Say someone visits the RedPandas HubSpot Pricing page or HubSpot services page. We can now setup an ad or a sponsored post they will see when on LinkedIn. We could for instance, remarket these visitors with a tailored piece of content e.g. '5 Things You Need to Consider Before You Buy HubSpot' – that specifically helps them in their buyer's journey.
CRM integration
Now here there's good news and bad news.
The good news is you can connect LinkedIn with a CRM system, create segmented lists and automatically target people in a list on LinkedIn via relevant content. The opportunities here are exciting and powerful and a glimpse of Microsoft employing LinkedIn in the pursuit of becoming an enterprise software titan.
Image having a list for each of your products or services or lists for different stages in the buying cycle and automatically target these people with useful content ads automatically. No need to export your database and import into LinkedIn manually to target.
The bad news is as of this time, it appears you can only automatically integrate If you're running Marketo, Eloqua or LiveRamp there is a native integration – which is good news if you are on those platforms.
Good 'ol CSV Upload
If you aren't on a platform with a native integration, never fear! You can also upload an email export of your database like a 2015 caveman. This is very similar to Facebook custom audiences or Google's Custom match targeting
Just like custom audiences, Linkedin will then attempt to match your email addresses with the email addresses of people on their network.
Here's where it gets exciting. If you're in the B2B space or in an industry where you need to target professionals then nothing will beat LinkedIn in terms of targeting job roles or titles.
Also consider this: Unlike Facebook where your ad is stuffed between memes and photos, people on LinkedIn are in a professional context.
They are looking for things to educate or inform them about areas in their industry. They also tend to engage, share, like with a piece of content that makes them look or feel better in the industry that operate in.
What Types of Ads Should You be Running with LinkedIn's Matched Audiences?
We mentioned an example above where a visitor visits a HubSpot pricing page and we serve them a remarketing ad on LinkedIn that promotes a '5 things you need to consider before you buy HubSpot' eBook. This content is designed to move them further down the buying journey whilst remaining true to the LinkedIn context.
If LinkedIn is the place where you audience is, look at your most commercial pages on your site (services, products, FAQs) then look to promote content that educate/inform or inspires them on LinkedIn. That's what they are on LinkedIn for!
Think of things that will help them solve a problem or make them look good or feel empowered in a professional capacity.
How to Get Started with LI Matched Ads
By far the easiest way to get started is to install the LinkedIn insights code via Google Tag Manager.
The thing about all these platforms and tools is you got to install the codes right? We're talking the countless Facebook, Google Adwords, LinkedIn, Hotjar etc bits of code you need to deploy.
That can pretty messy, you can get codes over code, outdated code, false positive, sounds terrible because you wouldn't know where to look to fix it!
Our advice is install google tag manager. You might need a coder once but that's it, only once vs getting your development team (if you have one) to install a code every time the old ones get outdated.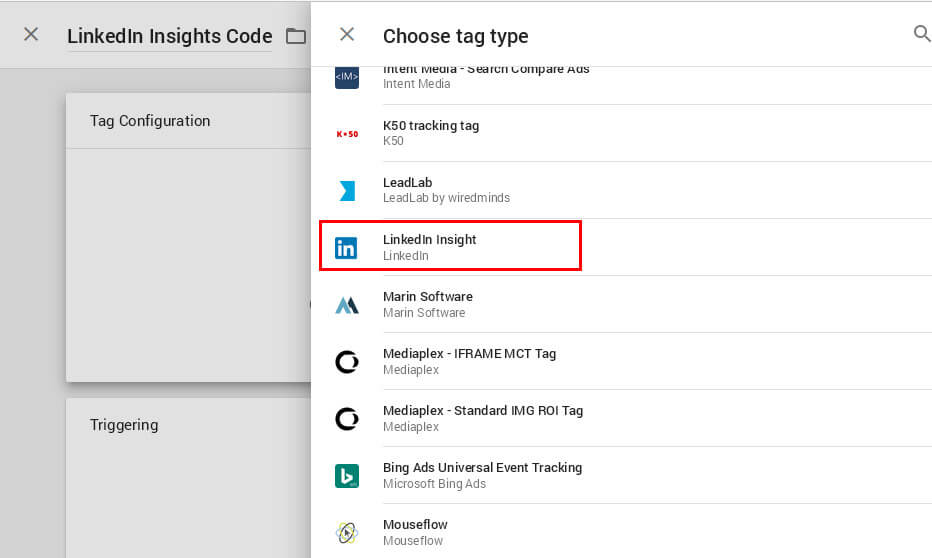 To add the LinkedIn Insight Tag to Google Tag Manager:
Go to tagmanager.google.com and sign in.
Click on your account and then your container.
In the New Tag box, click Add a new tag.
In the Choose Product section, click on the LinkedIn logo.
Complete the Partner ID field.
Add a tag-firing rule. For all pages, check the box next to All Pages.
Select Create Tag.
Click Publish in the upper right.
Voila! You are done Guvner!
We cover this update in pretty heavy detail in episode 63 of InboundBuzz, listen below for more detail:
Looking for an agency to manage your online advertising? Hit the quick contact button below or contact us here.