End of Facebook conversion ads? Not quite. But there are things you need to do.
Recently Apple announced changes to how it will allow apps to collect personal data using iOS 14. Over the next few weeks, Apple's AppTransparencyTracking framework will soon require all apps to ask iOS 14 users whether they agree to be tracked across apps and websites. If a user opts out – and obviously most people will – Apple will prevent certain data to be collected and shared from the device.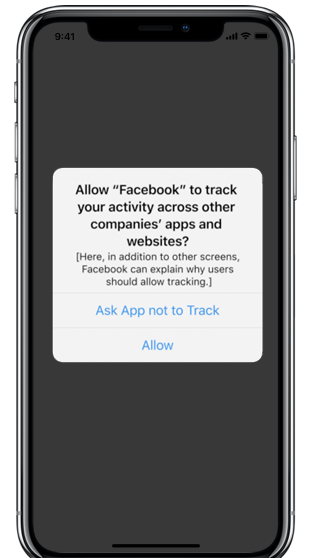 This obviously triggered Facebook and they released a post about Speaking Up for Small Business, a business toolkit and even a page for small business owners to "add your voice".
As hilarious as it is seeing Facebook try to stand up for the little guy, it's still concerning for businesses who rely on Facebook for lead generation.
Facebook is worried but most of us will be ok
What is scaring a lot of people is how scared Facebook is. Facebook says it "may render Audience Network so ineffective on iOS 14 that it may not make sense to offer it on iOS 14 in the future."
The impact won't be felt by all advertisers equally however.
The biggest group impacted isn't most Australian businesses
The biggest group that will be affected is advertisers who either want to advertise in other apps or have apps of their own to promote. This is because displaying targeted ads in an app based on data collected from other apps and websites will require permission from iOS users.
Of course, this also means Facebook's Audience Network will be impacted heavily. Facebook's Audience Network is a collection of publishers and apps that make money from showing Facebook ads on their sites and apps. However, we're not too fussed about this to be honest.
Yes, it's an issue if you monetise your app but most of our clients don't rely on the Audience Network because the results generally suck for conversion ads. I mean who wants to see a SportsBet ad when they are trying to play a free version of CandyCrush?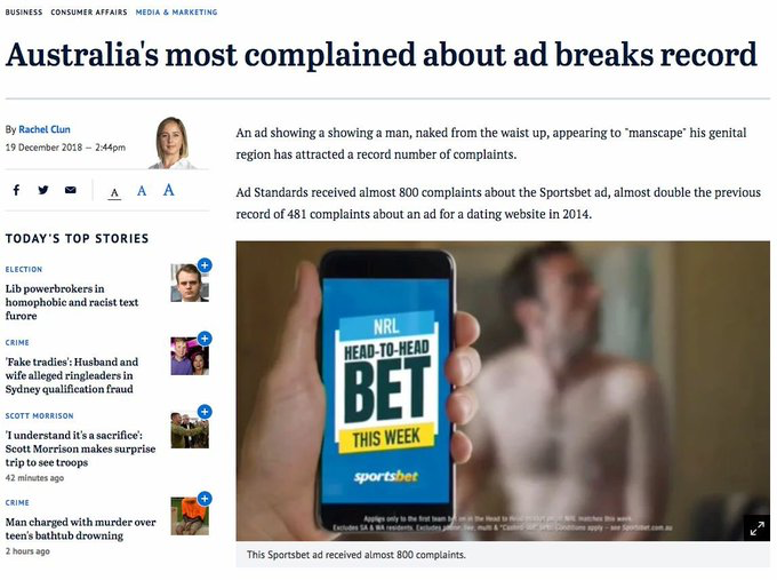 The Audience Network has been great for awareness ads but for conversions? Not so much.
What will the impact be for you?
If you do not run conversionfocused ads the impact will be minimal. Non-conversion type ads include 'like' campaigns, awareness campaigns, video views etc.
Most of our clients who run ads run them for conversions, and conversion-focused advertisers should be aware of the impacts and changes occurring.
The good news is you will still be able to run these ads, as long as bear these key changes in mind.
Event Management limited to eight conversions per domain
Advertisers will be limited to eight conversions per domain including pixel events and custom conversions. This will impact some of our clients who run literally dozens of custom conversions but for most businesses, eight events or conversion definitions is manageable.
Do note though if your ads are optimising for events that are outside of your primary eight those ad sets will get automatically paused.
7-day click and 1-day view attribution window
Due to privacy concerns, Facebook was already in the process of phasing out 28-day conversion windows. This means that soon, you will only be able to associate conversions to Facebook ads if they occur within 7 days of a click or 1 day within a view.
You should still have access to your 28-day window reports at present. If you do you, have a look at your data to see on average, what percentage of your conversions happen outside a 7-day window because you will lose this data soon.
Facebook Retargeting: My biggest concern
There seems to be a lot of fuzziness around what impact the update will have on retargeting ads. Experts like Jon Loomer are unsure and he reckons there could be a risk that retargeting on iOS may be impossible. Yikes.
Facebook is not currently clear on this either: "As more devices update to iOS 14, the size of your retargeting audiences may decrease". What does this mean exactly though? Is it just apps you can't retarget on? Is the window smaller? Is this being negotiated with Apple? Time will tell.
Check the impacted audience when you create an ad
If you're currently running ads, it's easy to uncover the audiences targeted on iOS.
Currently today and moving forward, you will be able to see the impacted users in the Ad Set settings of creating a new ad. Under Detailed Targeting, select the Browse option, then Behaviours → Mobile Device User → All Mobile Devices by Operating System.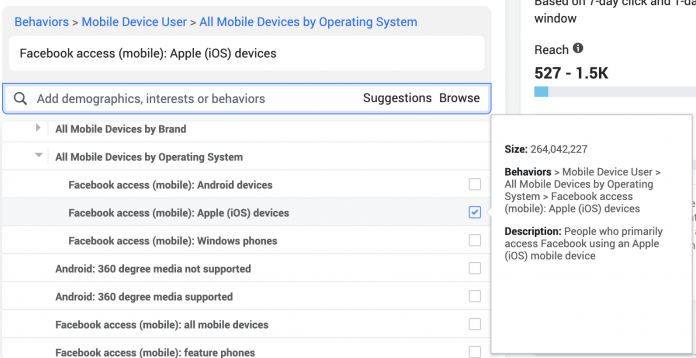 Verify your domain (it may help)
Facebook has recommended all advertisers verify their domain. Domain Verification provides a way for you to claim ownership of your domain in Business Manager.
It's unclear where Apple cares whether you do this or not, but it makes sense to do this as it signals to Facebook your domain is connected to your ads account and you have control and responsibility over it.
Closing thoughts and my recommendations
This isn't the end of Facebook ads but it's going to make running them successfully harder. It will force good advertisers to be more creative and if that's the biggest change, that's fine, we'd all love to see more creative ads.
The risk of losing remarketing on iOS devices concerns me the most. A lot of businesses rely on delivering targeted ads to people who have visited their website and they have every right to.
In case you thought Apple was some privacy knight in shining armour they are not. Hypocritically, their own ad platform is not subject to the same rules.
What we can do now is analyse our data for the potential impact by checking current reports and viewing the size of iOS audiences when creating ads as mentioned above.
More importantly, diversifying your media spend further and investigate Google's often overlooked display and YouTube ad products. Google is less affected by the changes as Google Analytics adheres (currently) to Apple's privacy measures.
Finally, continue to invest in owned media like building your own email database in a marketing automation or CRM system.
I feel like a broken record, but it seems every time there is a big change on social like this or the time when Facebook reduced organic page reach, I find myself saying the same thing:
Don't build your digital marketing house on rented land like social media, focus on owned land like a database you can nurture.