Inbound Marketing isn't as simple as it used to be. Gone are the days of simply creating a bunch of blog posts and an eBook and watch the traffic roll in. No, no, now you have to consider how to amplify your efforts with PPC, how to optimise for conversions with CRO and how to optimise for SEO in the face of the ever-changing Google machine learning algorithm, not to mention to voice search.
Then of course, you're supposed to get on top of video marketing, chat bots, marketing automation and then report on it all!
Fortunately there are a bunch of inbound marketing agencies in the the Sydney region you could reach out to for help. Unfortunately, after a while, they kinda all look and sound the same. So how do you evaluate them? This post is designed to help you with just that question.
---
Below are 10 key considerations you need to consider when looking to hire an inbound marketing agency:
1. Previous Inbound Marketing Clients & Success
The key here is actual inbound clients. Ask for examples of client on inbound case studies where the agency has worked on all components of the inbound including strategy, persona development, value proposition development, content marketing, marketing automation tool-stack and reporting
2. Experience with your CMS or Choice or their CMS of expertise
Are they experts in the HubSpot CMS? WordPress? Custom PHP coded sites? The technology options here are almost infinite. Ideally you want an agency that expertise in the tool-stack you need (like HubSpot) but also more varied expertise in areas like WordPress. Also, do you have any IT/technical platform dependencies? What are they and can the agency code to integrate accordingly?
3. What does their reporting look like?
This is big one. Forget that. It's a HUGE one. There's no point having the sexiest creative chops or even doing anything if they don't have a bunch of data geeks that can garner insights and then recommendations for you.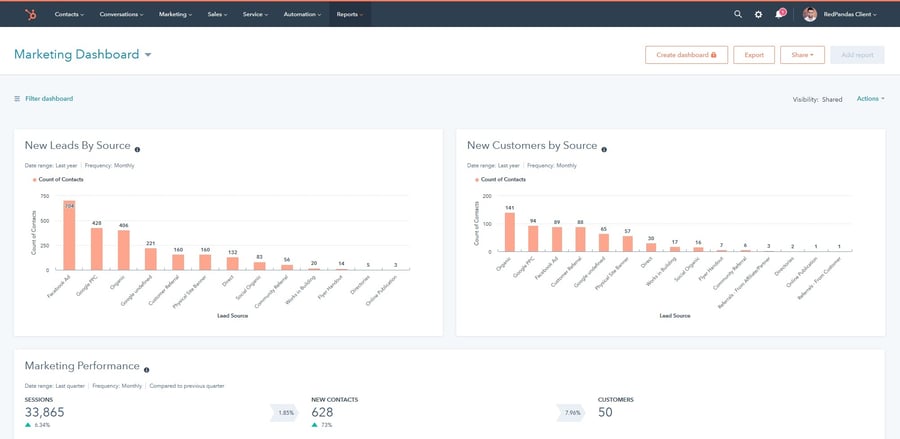 Dashboards like the above are great and are a start but they agency should also be able to give you a monthly wrap-up recommend with insights on things like:
Traffic by channel b. Organic Growth & Opportunities
SEO ranking reports AND Digital Share of voice reports against your competitors
Visits to Leads to Customer Reports (cut by your divisions and marketing channels)
Most popular content (by visits and leads)
4. Exactly who will be managing your account?
It's not uncommon in agency land to be sold by the smooth talking sales team or group of agency founders only to be palmed off to a very junior account manager who follows a very rigid playbook.
Be sure to ask to meet your account manager, ask them curly questions and understand how they would work with you or your team on an operational basis.
5. How does the team stay cutting edge?
This is important. Digital moves so fast that the best inbound and digital marketing agencies have learning and development programs as part of their team's KPI's. There's no set and forget degree you can learn in inbound and digital marketing.
Understand by asking how the agency and team members stay cutting edge and will ensure they will be at the forefront of digital and inbound marketing for you.
6. Involvement in the Inbound Marketing community?
They say the best way to learn is to teach and share. We personally feel this is very important and encourage each team member to create content, speak at events on our behalf and be involved in any extracurricular activities in our industry.
In our industry for instance we run one of Australia's most popular and longest running inbound marketing podcastsas well as host the HubSpot User Group in Sydney – all simply for the purpose of being involved in the inbound marketing community and growing ourselves.
7. Contract Length
We've seen keep all in the industry. Some better than others. Be wary of 12 month contracts particularly. This is a reeeally long time to commit to an agency you haven't worked with yet. Don't get sucked into that argument.
As a general rule a 6 month contract is reasonable as it gives the agency a chance to bundle and 'bulk buy' if you will, all the resources it needs to service your account.
Post initial contract, also be mindful of automatic 12 month rollovers. It's common to have 30-90 day notice periods and it should be longer than this. At RedPandas we elect to have 60 notice periods for retainer clients.
8. Specific process details and timelines around strategic process
Ok so how will they actually serve you? What is the strategy? Will they be creating you a customised roadmap or will you get a cookie cutter approach?
Understand what the timeline and process for strategy will be, when execution will kick-off and how will your reporting framework be formulated.
9. What is done in house vs what is outsourced
Important and most clients fail to ask this. In 2019 it's very common to have some offshore department. It's simply how agencies stay profitable in the cut throat industry they are in but there is a very big difference with an agency that has it's own employed team for shallow tasks like data mining vs an agency that outsources it's entire production team.
As a rule, a good agency should have it's core departments local e.g. all strategy, design, content writing, SEO, PPC and head developers. Then there are certain menial tasks that in our opinion are ok to offshore like data miners, link builders that scour thousands of quality links (directed by the Australian local head of department) and junior coders directed by the Australian based head of development.
Every agency does something offshore and they are most likely lying if they say they aren't. The key is understanding what is done in house and what is done offshore.
10. Can you speak to previous clients?
Don't just assume these will be staged anyway and not just ask. The clients referred are likely going to be real (unless you are dealing with a psychopath who has the time and energy to coach a mate) it's about learning how other clients work with your potential new agency and whether it's a right fit for you.
Ask specific questions around things like:
Response times
The account management team
How long did it take to get results?
How does the client recommend you get the best out of them (sometimes you can read between the lines if there were problems)
How did the agency handle problems, escalations, issues, emergencies – these by the way whether through fault of agency or not will be inevitable, the important thing is how did the agency handle them
Why does the client recommend them?
How have they been different to other agencies they may have worked with in the past?
BONUS: What Inbound Marketing Platform is used and support costs
Inbound marketing is more than a bunch of tactics. It is mandatory to execute with a marketing automation platform like HubSpot to truly deliver results with inbound marketing. For instance, automated emails and SMS's triggered by user behaviour won't send themselves!
It's important to have fewer tools that do more things so you don't end up with a Franken-system e.g. one tool for emails, a separate one for landing pages and yet another tool for reporting.
This is why we like HubSpot. It's a tool that truly is an all-in-one which means less messy technical integration and a more manageable technology stack.
---
CONCLUSION:
There you have it. 10 (plus 1) honest questions you can ask your next potential agency before jumping into bed with them. Nothing above really is unreasonable for you to ask or you should be shy about.
They are all honest and constructive questions you're within your rights to ask and also shows your potential agency you're an honest straight-shooter that wants a constructive relationship and if they are any good, they'll respect you for that.
If you're looking for an a full service or inbound marketing agency in Sydney, speak to RedPandas and let's have an honest conversation about if we can help.